Erreurs Mentales - Pensées diverses, textes idiots et images perverties.
La musique qui me fait vibrer - Retour
Alors ça part de trucs des années 60-70 à des albums sortis en 2010, soyez donc pas surpris.
Quand je ne précise pas de titre d'album, c'est en principe que j'aime tout de cet artiste / de ce groupe.
Ah, j'ai aussi un dossier nommé "mémoire", avec un tas de vieilles chansons en vrac, la liste est içi.
Anaïs - The Cheap Show
Anaïs Kael - Chansons coquelicot trash
Anima Sound System
Archive
Bauhaus
Bérurier Noir
Bill Ze Kick
Björk - Debut
Brain Damage
Clarika
Cypress Hill
Daran & Les Chaises - Huit Barré
Deep Purple - Made in Japan, BBC Sessions
Depeche Mode - Black Celebration
Dub Syndicate
Emilie Simon
Enigma - MCMXC.AD
Fedayi Pacha
Fight Club, bande originale, par les Dust Brothers
Serge Gainsbourg - Histoire de Melody Nelson, Casino de Paris, Zénith de Paris
Guns'n Roses - Use your illusion vol I & II
High Tone
IAM - Ombre est lumière (double album) - L'école du micro d'argent
Insane Clown Posse - The Great Milenko - The Amazing Jeckel Brothers
Iron Maiden - Live after death
Jamika
JMPZ
Junkie XL - Saturday Teenage Kick
Kaly Live Dub
Kat Onoma
Kohann
Kraftwerk (les inventeurs de la musique électro, respect !)
La grande Sophie
La Souris Déglinguée - Banzaï
Lab°
Led Zeppelin - I, II, III, IV
Leftfield - Rhythm and Stealth
Lhasa de Sela (paix à son âme)
Lofofora - Lofofora
Lunatic Calm - Breaking Point - Metropol
Mademoiselle K - Ca me vexe - Jamais la paix
Marylin Manson - Portrait of an american family - Smells like children
Massive Attack
Massilia Sound System
Mickey 3D
Ministry - Psaulm 69 and the way to suceed - The Dark Side of the Spoon
Molecule
Niagara
Nirvana - Nevermind - In Utero
No One Is Innocent - No One is Innocent - Utopia
Noir Désir
Olivia Ruiz
Orange Blossom - Orange Blossom - Everything must change
Orange Street
OST (Bande Originale) de Wild Things (Sexcrimes en France)
OST (Bande Originale) de Requiem for a dream
Pink Floyd - 1967-1979
Portishead
Prohom
Propaganda - A secret wish
Rammstein - Herzeleid - Sehnsucht
Red Hot Chili Peppers - Blood, sugar, sex and magic
Renaud - Un Olympia pour moi tout seul
Rodolphe Burger (ex leader de Kat Onoma)
Sergent Garcia - Un poquito quemao - Viva El Sargento
Senser - Stacked Up - Asylum
Sidilarsen
Skunk Anansie
Soap Kills
Spicy Box - Crier - Mouvements (double) - Spicy Box
Swandive
Taal - Mister Green - Skymind
Taxi Girl - Cherchez le garçon - Seppuku
Terranova
The Chemical Brothers
The Cure
The Doors
The Police - Synchronicity
The Prodigy - Music for the jilted generation, The fat of the Land, Always outnumbered, never outgunned - Invaders Must Die
The Who
The Young Gods
Thiéfaine, Hubert Félix
Trust - Répression
U2 - The Joshua Tree - Zooropa
Yello - The Race
Zebda
Zenzile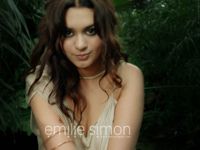 Emilie Simon, mon artiste féminine francophone favorite. Découverte par hasard une nuit d'insomnie en voyant le clip "Désert" sur MTV. Me suis précipité sur le net pour avoir plus d'infos, j'ai téléchargé l'album, pour écouter le reste, et je l'ai acheté. Oué, je fais comme çà, je télécharge (quand je trouve) et si j'aime, si j'adore, si je vénère, comme dans son cas, je file acheter le disque.
Surtout que la demoiselle fait tout elle même, écriture, composition, mixage, etc, etc.
La plus talentueuse des chanteuses de France de Navarre et d'ailleurs. L'énorme succès de sa tournée mondiale débutée en 2010 le prouve. Même en Chine, ses concerts affichaient complet, c'est dire ...
Bonus musical :
Emilie Simon - Dreamland
(Album The Big Machine)